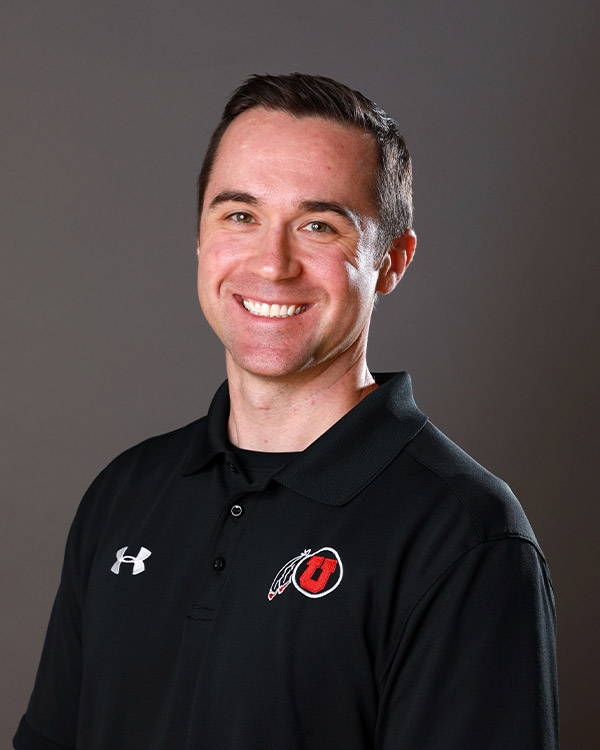 Year at Utah: 1st
Coaching Timeline
2020: Utah
Assistant Coach

2018-2019: Arkansas
2019: Associate Head Coach
Recruiting Coordinator
2018: Assistant Coach
Recruiting Coordinator

2014-17: Texas Woman's Assistant Coach
Recruiting Coordinator

2013: Cincinnati Gymnastics Academy
Compulsory/Optional Coach

2011-12: Georgia
2012: Director of Operations
2011: Graduate Assistant Coach
Coaching Highlights
Division II Assistant Coach of the Year: 2014
Midwest Independent Conference Assistant Coach of the Year: 2017
NCAA All-Americans: 2
USAG National Champions: 1
USAG All-Americans: 16
Education
Georgia, 2010
Bachelor's Degree (Exercise and Sports Science)

Georgia, 2011
Master's Degree (Sports Management and Policy)
Personal
Hometown: Roswell, Ga.
Birthdate: Aug. 13, 1986
Family
Married: Courtney McCool Griffeth
Daughter: Rae
Garrett Griffeth
Assistant Coach
First-year assistant coach Garrett Griffeth comes to Utah after two years as an assistant and associate head coach at Arkansas. Griffeth's primary coaching responsibility will be the vault and he will also play a key role in recruiting.
Before his stint at Arkansas, Griffeth spent four seasons as an assistant coach at Division II powerhouse Texas Woman's University from 2014-17. He served as the recruiting coordinator at both schools.
In his first year at Arkansas in 2018, the Razorbacks advanced to the NCAA Championships for the first time in five seasons and he coached Braie Speed to All-America honors on vault. Griffeth was promoted to associate head coach for the 2019 season. The Razorbacks set several school records in his two years on the staff and achieved a program first with consecutive fifth-place SEC finishes.
Griffeth first made a name as an assistant at Texas Woman's, where he was the 2014 Coaches Association Division II Assistant Coach of the Year and the 2017 Midwest Independent Conference Assistant Coach of the Year. He coached 16 USAG All-Americans on vault and bars, a USAG national bar champion and two USAG bar runners-up at TWU. In his final season, the Pioneers won the 2017 USAG National Championship.
Griffeth prepped for an NCAA coaching career at Cincinnati Gymnastics Academy, where he coached compulsory and optional gymnastics for one year from August 2012-13, and at Georgia, where he was a graduate assistant coach in 2011 and a full-time administrative associate in 2012. His duties in the latter role included on-campus recruiting and team operations.
A native of Roswell, Ga., Griffeth earned a bachelor's degree in exercise sport science (concentration in athletic training) in 2010 and a master's in sports management and policy in 2011 from Georgia.
He is married to Courtney McCool, a 2004 USA Olympian and former NCAA champion Georgia gymnast. She is in her first year as Utah's volunteer coach and choreographer. They have a daughter, Rae.