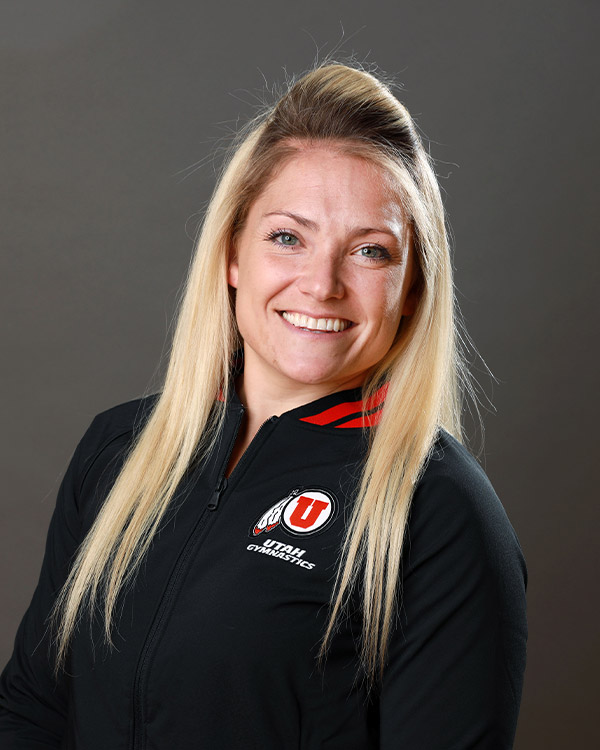 Year at Utah: 1st
Coaching Timeline
2020: Utah
Volunteer Assistant Coach
Choreographer

2018-2019: Arkansas
Volunteer Associate Head Coach
Choreographer

2014-17: Texas Woman's Assistant Coach Choreographer

2014-15: Texas Dreams Gymnastics Assistant Elite Coach

2013: Cincinnati Gymnastics Academy
Assistant Elite Coach
Choreographer

2011-12: Georgia Elite Gymnastics
Assistant Coach
Choreographer
Coaching Highlights
NCAA All-Americans: 2
USAG National Champions: 2
Education
Georgia, 2011
Bachelor's Degree (Child and Family Development)

Georgia, 2012
Master's Degree (Sport Management and Policy)
Personal
Hometown: Kansas City, Mo
Birthdate: Apr. 1, 1988
Family
Married: Garrett Griffeth
Daughter: Rae
Courtney McCool Griffeth
Assistant Coach
First-year Utah volunteer coach and choreographer Courtney McCool Griffeth has competed alongside, coached and choreographed some of the best gymnasts in the world. A 2004 Olympian for the silver medalist United States team, McCool later won three NCAA team titles and an NCAA individual championship at Georgia before embarking on a career as a coach and choreographer.
In her new position, McCool Griffeth will assist with choreographing routines and coaching floor and beam. She will also serve as the co-director of Utah's summer camps.
McCool Griffeth brings six years as a coach and choreographer at the NCAA level to Utah, previously spending two years at Arkansas (2018-19) and four years at Texas Woman's (2014-17). She coached and choreographed Arkansas's Sophia Carter to regular season All-America honors on floor in 2019. Carter also qualified for the 2019 NCAA Championships as an individual competitor on floor. During her time at TWU, McCool Griffeth coached two USAG national floor champions. The Pioneers won the 2017 USAG National Championship.
She also has more than a decade of experience coaching and choreographing routines at camps and clubs around the country. The clubs included Texas Dreams Gymnastics (2014-15), Great American Gymnastics Express (2014), Cincinnati Gymnastics Academy (2013) and Georgia Elite Gymnastics (2011-12). Among those she has worked under are Olympic medalist coach Mary Lee Tracy and Olympic medalist gymnasts Kim Zemskal-Burdette, John Roethlisberger and John Macready.
As a competitor, McCool won the all-around at the 2004 Olympic Test Event in Athens, Greece and placed second in the all-around at the 2004 U.S. Olympic Trials. She participated for the silver medalist U.S. team at 2004 Olympics in Athens. From 2007-10, she competed for Georgia, helping the GymDogs to NCAA titles from 2007-09 (edging runner-up Utah in '07 and '08). She was the 2008 NCAA floor champion and a first-team All-American from 2008-10.
The Kansas City, Mo., native earned a bachelor's degree in child and family development in 2011 and a master's in sports management and policy in 2012 from Georgia.
She is married to Utah assistant coach Garrett Griffeth. They have a daughter, Rae.